The 2022 Subaru Love Promise Community Commitment Award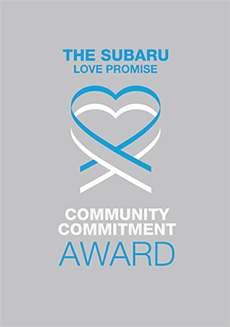 We've been nationally recognized for our dedication to our community and the Subaru Love Promise.
We're honored to receive the 2022 Subaru Love Promise Community Commitment Award. This award nationally recognizes Subaru retailers who are making the world a better place while demonstrating an outstanding commitment to supporting passions and causes in local communities. These efforts are focused in important areas such as the environment, community, health, education, and pets.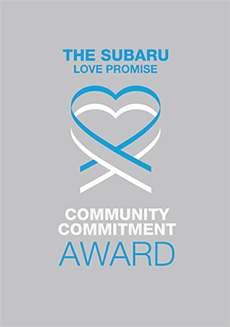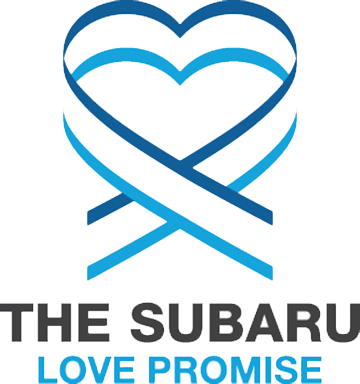 What is the Subaru Love Promise?
Subaru and our retailers believe in making the world a better place and the Subaru Love Promise is our vision of respecting all people. This is our commitment to show love and respect to our customers and to work to make a positive impact in the world.
How is Classic Subaru of Atlanta dedicated locally to the Love Promise?
Our Love Promise can be seen in various partnerships with local charities and non-profits. We're grateful for the opportunity, not only to be a part of our community, but to serve it as well.
Mutt Madd-ness Dog Rescue, FurKids
Southern Off-Road Bicycle Association (SORBA-W), Georgia Conservancy
Barnwell Elementary , Springmont Montessori School - Mile Dash
Senior Services North Fulton - Meals on Wheels, The Leukemia & Lymphoma Society, Make-A-Wish Georgia
CURE Childhood Cancer, Team in Training - Georgia Chapter, Tri the Parks Race Series - Swim, Bike, Run!, Endurance Concepts - Endurance Coaching Firm, Bike Roswell
Love Promise Stories from Classic Subaru of Atlanta
Subaru and Classic Subaru of Atlanta believe in making a positive impact on the communities in which we live and work. We uphold that belief through our Love Promise Community Commitment. Every month, we select inspiring stories from customers and partners from around our area who strive to support our collective commitment and feature them here
Classic Supports Barnwell Elementary Barnival! - Jay W
Classic Subaru of Atlanta proudly supports Barnwell Elementary annual Barnival event! This large carnival event gives Barnwell students a fun filled carnival full of games, food, prizes, ice cream, carnival rides, and much more! This year Classic Subaru staff members set up several carnival games for students to play and winning tickets were raffled for a grand prize of a giant Pac Man arcade game!
---
Classic Atlanta Subaru Made Julie's Wish Come True - Classic Atlanta Subaru a
MEET JULIE "I wish to have pedal go-karts and a race track!" Four years ago, Julie's parents took her into the doctor to find out what might be wrong with her vision. Julie was admitted into the hospital, and her parents were given news that would turn their worlds upside down. Several surgeries and rounds of chemo later and Julie emerged a fighter. When she was asked what she wanted for her wish, Julie thought about a trip to Disney World. But then, she pivoted and let her imagination go wild: she wanted not one, but two pedal go-karts... plus a racetrack! START YOUR ENGINES The staff and volunteers at Make-A-Wish Georgia set to work on how they could make Julie's wish become a reality. With the support of our national partner, Subaru, and local dealership, Classic Atlanta Subaru, we were able to create a wonderful wish day experience for Julie! On April 20, 2022, Julie and her family were invited to meet the volunteers and staff at a specific address. When they arrived, they saw family and friends cheering them along with the entire Subaru team. Julie was so excited to see that the first part of her wish was about to come true: two pedal go-karts in blue and orange sat at the "starting line" of a racecourse. When the checkered flag waved, Julie and her brother pedaled their hearts out. She smiled and speed around the corners of the course, beating her brother by two car lengths. Anytime she was stopped for a photo, she would pose for a photo and then say, "I want to go, go, go!" Considering that Julie's parents worried just a year before that she may never walk again unassisted, they were filled with joy and hope at seeing her whirl around the track with ease. At her wish celebration, Julie couldn't stop smiling… or pedaling! The team at Make-A-Wish Georgia is so grateful to Mike Domenicone and the team at Classic Atlanta Subaru and our Subaru national partners who helped celebrate Julie's wish by sharing the love and supporting need for speed!!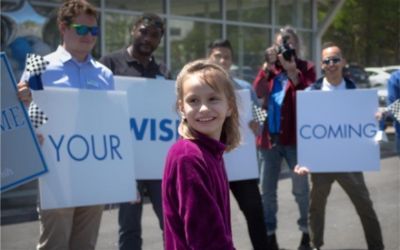 ---
Finally a dealer not price gouging! - Stephanie M
We recently started our search for a new vehicle about 3 months ago and quickly found our timing wasn't the best. We realized with the inventory and microchip shortage most car dealers were taking advantage of the situation and having hefty price increases or "market adjustments" far above MSRP for a new vehicle. We weren't positive what we wanted so we went to several other brand dealerships first around the city and found the same answers everywhere, few vehicles and high mark ups. Then we found Classic Subaru. We called and spoke to Bryer who right away on the phone explained Classic does not sell over MSRP and they had several vehicles in stock to choose from. We went in that afternoon and ending up ordering a brand new Outback XT and we couldn't be happy with everything. Thank you Classic Subaru for being up front and ethical during these tough times when families like mine are having to pay more for everything else. I highly recommend everybody in the market for a new vehicle go see Bryer Newton and Classic Subaru for their next vehicle!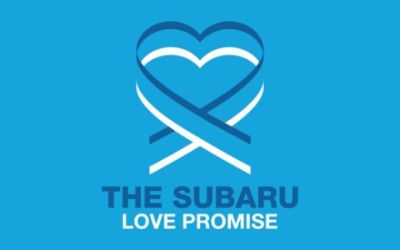 ---
Classic Subaru Hosts Spring Clothing Drive! - Brenda G
Classic Subaru of Atlanta along with the help of their valued customers and employees filled TWO Subaru Ascents with gently used clothing for their large Spring Clothing Drive. Classic understands Spring means Spring cleaning and cleaning out those closets. This year Classic asked all customers and employees to bring in their gently used clothing from those closets and made a large donation to the North Fulton Community Charities. NFCC operates a local Thrift Shop where these donated clothes help fund the operations and services of NFCC. In addition, families who qualify can participate in our free Family Choice clothing program. Proceeds from shoppers also provide much of the revenue for NFCC to serve families each year. That revenue helps prevent hunger and homelessness in our community through, food, emergency assistance, and workforce readiness classes.
---
Classic Subaru helps Sandy Springs recycle - Bill K
Every time I visit Classic Subaru of Atlanta I've always noticed their recycling bins around the store. Today I stopped for a few minutes and spoke to Sergio in the Sales Department and he explained the TerraCycle program and how these pieces of waste are recycled and repurposed into other things. Wow! I can tell you I have never been a huge recycling advocate myself but learning about this program really makes me want to bring and contribute more of my items. Thank you to the team at Classic Subaru for bringing awareness to this program and making it easy to contribute. I'll be back with some of those coffee cups for sure!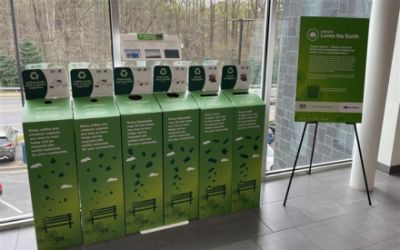 ---
Pietro Loves the New Subaru! - Felipe M
Can't begin to explain how much Pietro loves the new Subaru! So happy to have a vehicle our family can load up and take to the park and let Pietro have a great dog day! He acts like the vehicle is his and he jumps in and out like he owns it. The Subaru Ascent provides excellent space for a medium size dog to move around and our family all feels safe knowing we are in a Subaru. Thank you Classic Subaru of Atlanta for helping find the perfect vehicle for our family and Pietro. It's going to be a great summer!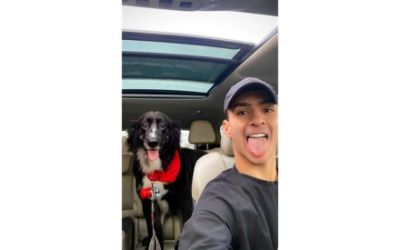 ---
Classic Subaru Donates the Gift of Books - Ethan V
Classic Subaru of Atlanta recently completed a book drive for our local Sandy Springs Library. Giving all our clients and employees the opportunity to donate, Classic raised several boxes of gently used books to help our local library grow their collection.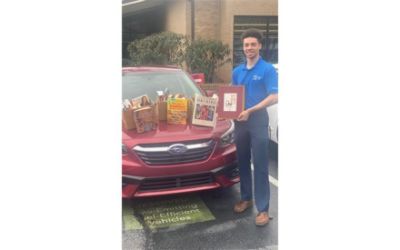 ---
Classic Subaru Techs are so Kind - Liam B
I was noticed at the nearest Chick-fil-a with my Subaru jacket on and the employee asked if I was at the Subaru right down the road. I replied, "yes I sure am". She went on and on about how she was driving down the road recently in a heavy rain and a lady in front of her had a tire go flat. She stopped to try and help the lady, but her lug nuts were seized. One of the Subaru Techs noticed them having trouble and stopped what he was doing in the pouring rain to help remove and fix the tire and got the nice lady from SC back on the road. The Chick-fil-a employee said thank you, thank you, thank you, that there really are kind people still in this world. So nice to have such thoughtful technicians that want to help others!
---
Classic Subaru supports Mountain Biking - Brad W
The Roswell Alpharetta Mtn Bike Org (RAMBO) completed our annual night ride season on the trails at Big Creek Park with outstanding results. Our final ride was attended by over 65 riders, and all were treated to a Burrito dinner, compliments of Classic Subaru of Atlanta. The dealer even brought out one of the new vehicles on display, which garnered a lot of attention and questions by many folks. RAMBO appreciates the support of Classic Subaru and looks forward to our continued partnership in 2022.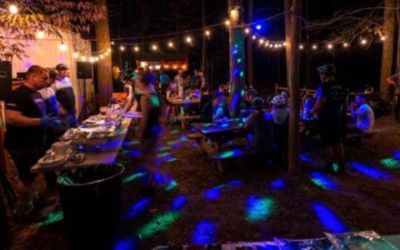 ---
Service with a smile, thank you Classic! - Arlene B
I had an issue with my Outback and Classic sent out a porter with a loaner to swap out and drive my car in. I was so impressed with their going above and beyond to make my day! I had a couple big projects due and no time to get in, so they made it easy for me. Kept me very well informed and brought my car back to me when it was done. Going the extra mile to make me smile! This is what I would think Subaru Love is all about! I see it in the commercials all the time, Love, its what makes a Subaru a Subaru!
---