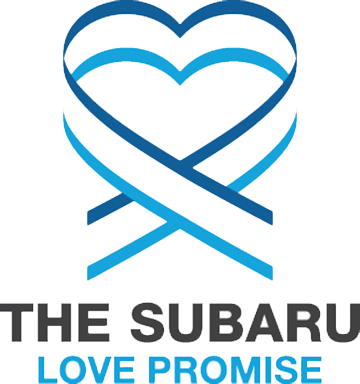 What is the Subaru Love Promise?
Subaru and our retailers believe in making the world a better place and the Subaru Love Promise is our vision of respecting all people. This is our commitment to show love and respect to our customers and to work to make a positive impact in the world.
How is Classic Subaru of Atlanta dedicated locally to the Love Promise?
Our Love Promise can be seen in various partnerships with local charities and non-profits. We're grateful for the opportunity, not only to be a part of our community, but to serve it as well.
Mutt Madd-ness Dog Rescue, FurKids
Southern Off-Road Bicycle Association (SORBA-W), Georgia Conservancy
Barnwell Elementary , Springmont Montessori School - Mile Dash
Senior Services North Fulton - Meals on Wheels, The Leukemia & Lymphoma Society, Make-A-Wish Georgia
CURE Childhood Cancer, Team in Training - Georgia Chapter, Tri the Parks Race Series - Swim, Bike, Run!, Endurance Concepts - Endurance Coaching Firm, Bike Roswell
Love Promise Stories from Classic Subaru of Atlanta
Subaru and Classic Subaru of Atlanta believe in making a positive impact on the communities in which we live and work. We uphold that belief through our Love Promise Community Commitment. Every month, we select inspiring stories from customers and partners from around our area who strive to support our collective commitment and feature them here
Classic Subaru of Atlanta Supports New STEM School - Raina L
Classic Subaru of Atlanta has made a generous donation to Innovation Academy in Alpharetta, GA. IA is a newly opened Magnet STEM High School located in the tech hub of the south, Alpharetta, GA. Innovation Academy's mission is to provide students with a specialized project-based education in the following pathways: Healthcare Science, Engineering, and Information Technology. Classic Subaru's partnership and donation will help IA to further enrich each students experience and help push them to be creators and problem solvers in an ever changing world.
---
Big Trees Forest Preserve Clean Up - Jamin W
Along with management the entire Classic Subaru Sales Team spent the entire afternoon hiking through Sandy Springs Big Trees Forest Preserve removing trash and helping the pathways and stream stay clean. This park located directly adjacent to the dealership plays a large role in our community providing excellent nature trails for all to enjoy. The Classic Subaru Sales Team was able to collect several bags of trash from the trails and stream helping keep Sandy Springs beautiful and clean.
---
Akshay's LEGO Wish Accomplished! - Katie S
Our mission at Make-A-Wish Georgia is to create life-changing wishes for children with critical illnesses. From the most complex wishes to the simplest ones, we are committed to creating hope in the hard seasons these brave families are facing. Thanks to Classic Subaru of Atlanta, hope ignited for one special boy and his family during a very special wish celebration at their local dealership. When 12-year-old Akshay thought about what he wanted his wish to be, it didn't take him long to grin and say, "I wish to have my dream LEGO sets!" He LOVES to build things. On days when his nervous system disorder presents challenges, LEGO sets allow Akshay to create worlds where he is in control. When he's assembling something he designed, his confidence builds with every layer. His dream is to become an architect one day, and LEGO sets give him the chance to practice his skills. When our friends at Classic Subaru of Atlanta heard about Akshay's wish, they immediately started brainstorming ways to make it come true in the most special of ways. Not only did they sponsor his entire custom wish list of LEGO sets, they also threw and epic wish celebration and car parade, surprising his whole family. On Akshay's wish day, his family arrived at Classic Subaru of Atlanta without any idea of what to expect. Little did they know, employees had been hard at work decorating a parade of Subaru vehicles! While Akshay's family entered the garage bay, a crowd of people started cheering, holding up signs that said, "Your wish is coming true!" As Akshay realized what was happening, the parade of decorated Subaru vehicles drove through the bay! Honking horns echoed off the walls and cheers rang out. Akshay and his family were overwhelmed with excitement! When the last car made its way to the bay, it stopped right in front of Akshay. Mike Domenicone, owner of Classic Subaru of Atlanta, got out and opened the hatch, revealing a trunk load full of all the items from Akshay's wish list! Not only did he present Akshay with LEGO sets, but some for his siblings too. When initially asked about his wish, Akshay made sure to include his siblings to share the love and fun with them as building LEGO sets is their favorite way to spend time together. Akshay and his family couldn't stop smiling as Mike and the entire team at Classic Subaru of Atlanta cheered them on. Akshay's dad spoke on behalf of the family and thanked everyone in attendance for creating a day they will never forget. He even invited everyone to come over one day and see the LEGO sets once they're all built. Akshay's wish was simple in nature, but the team at Classic Subaru of Atlanta created so much hope by granting it in an unforgettable way. We're so grateful for their hearts for wishes!
---
THANK YOU Subaru for helping families in need!! - Ben B
Since the start of the pandemic, the Atlanta Community Food Bank has seen a 300% increase in families seeking food assistance. Currently, we are distributing 50% more food per week than we were at this time in 2020 and are serving over 1 million food insecure Georgians due to the COVID-19 crisis. 1 in 4 children currently go to bed at night hungry. In 2020, Subaru provided enough support help us provide almost 200,000 meals to our 29 county service area. In 2021, they are providing enough support for almost 400,000 meals!! With their help, and yours, we are going to make sure every family that needs a meal will have it and we will get through this thing together! Thank you Subaru!!
---
My First Time Buying A Vehicle - Ian D
I had driven the same used car that was given to me by a family member for almost a decade, from the time I was in high school until recently when I decided I was going to buy a new car. The idea of buying a new car was daunting, but Subaru made the process as easy and convenient as possible. I'm really happy I chose Subaru, and I just wanted to say that dealing with Subaru and Classic Subaru of Atlanta was a great experience. 10/10. I would do it again, and I plan to in the future! Thank you, Subaru!
---
Classic Subaru supports Mary Hall Freedom Village - James S
Classic Subaru of Atlanta loves to help. With so much going on this year, it is sometimes easy to overlook all the good that happens around us every day. We are honored to assist Mary Hall Freedom Village with a donation of 80 blankets during Homeless Awareness Month. This small gesture is to bring awareness to a wonderful organization that assist hard-working people to remain as productive members of our society. Here is additional information about Mary Hall Freedom Village. Please visit their website to find out how you can get involved. https://www.maryhallfreedomvillage.org/copy-of-employment-volunteer Mary Hall Freedom Village, founded in June 1996, addresses the need for residential substance treatment services for women in the Metro-Atlanta area. In 1998 we began providing housing to homeless women, children, veterans and families. Since its humble beginnings of one apartment and two women, Mary Hall Freedom Village currently provides housing and services to over 250 women and over 80 children on any given day, restoring over 1,000 lives annually, and has served more the 15,000 women since 1996.
---
Classic Subaru of Atlanta soaring into action. - James S
An early start to a great day! Jan 20th 2020, Quinton Manston joined forces with Angel Flight Soars to get a young man in need of medical care across the state! Quinton is always eager to donate his time, plane and skills as a pilot to assist. Classic Subaru is proud to support Angel Flight Soars. Have questions about Angel Flight or want to know how you can help? Simply stop into Classic Subaru of Atlanta and ask for more details. Classic Subaru loves to care! What a great way to combine a love of flying with a passion for helping! ANGEL FLIGHT SOARS is the original volunteer pilot organization serving those who reside in, are travelling to or through the states of: • Georgia • Alabama • Mississippi • Tennessee • North Carolina • South Carolina We also have angels throughout the country to work with when needs extend beyond this region.Our missions include: routine treatment flights, compassionate care, and other medical-related flights as referred to us by health care providers. The ANGEL FLIGHT SOARS philosophy is that the cost of travel should never stand in the way of people receiving medical care. Since incorporating in 1984, we have increased volunteers to over 1,200 pilots and non-pilots (earth angels). That is a lot of angels earning their halos!
---
Cameron's Birthday Celebration - Katie S
In 2018, just before starting kindergarten at Landmark Christian School, five-year-old Cameron Ward was diagnosed with a rare form of lymphoma. His treatment required six months of chemotherapy, which meant several hospitalizations and many frightening, uncomfortable hours of treatment. When Cameron would get scared or homesick for his four older siblings, his mother, Erika, would show him videos to distract and entertain him. One of those videos was watching people swimming with pigs at Pig Island in the Bahamas. It was the first time Cameron's mom had seen him laugh in a long time. Cameron, now cancer-free and a vibrant first-grader at Landmark Christian School, could not stop thinking of those pigs, and wished that he and his family could all go to Pig Island some day. Thanks to Make-A-Wish Georgia and their partnership with Classic Subaru of Atlanta, that wish will soon come true! Cameron and his classmates were surprised with the first leg of the wish journey, a celebration of Cameron's 7th birthday. The elementary halls were adorned with elaborate balloon towers and arches befitting a grand celebration. Cameron's parents, grandparents, and siblings joined the entire elementary school in lining the walkways to cheer for Cameron and his classmates as they made their way outside for a very special field trip. As part of Subaru's Share the Love EventTM celebration, Classic Subaru of Atlanta provided vehicles for Cameron's family to travel to their dealership, where the surprise birthday celebration was held, and the Landmark bus, filled with Cameron's first-grade class, followed closely behind. Upon arrival, Cameron was greeted by a room full of Classic Subaru staff members wearing matching t-shirts that read, "Happy Birthday, Cameron!" The showroom was decked out with all of Cameron's favorite colors in an island theme to celebrate his wish. They served pizza to all guests and friends and even had a petting zoo of mini piglets for Cameron to enjoy. Of course, a birthday celebration wouldn't be complete without presents. During the party, Cameron received the biggest surprise of all: the news that Make-A-Wish Georgia was sending his family to the Bahamas to swim with his beloved pigs! It was a fantastic afternoon for all who attending including unsuspecting customers of the dealership who couldn't help but join in on the festivities. An incredible effort of team work and dedication to a mission that brings hope, strength and joy to not only the wish kids we serve but the entire community. It takes a village to grant a wish and we're so thankful Classic Subaru of Atlanta is part of ours! Since 2011, Make-A-Wish has participated in the Subaru Share the Love event as a benefiting charity. Over the past 9 years, the event has raised more than $145 million and granted more than 2,200 life-changing wishes nationwide. This year, to strengthen local impact and outreach, Classic Subaru of Atlanta chose Make-A-Wish Georgia as their Hometown Charity for the 2019 event. As a kickoff to the campaign season and highlighting the invaluable role this partnership plays in bringing joy to a child's life, Classic Subaru hosted a show-stopping celebration for local Georgia wish kid, Cameron.
---
Classic Subaru Gathers Items for Mutt Maddness - Karen T
Classic Subaru and Tri the Parks athletes gather items for Mutt Maddness, a local dog rescue that Classic has worked closely with for almost a decade. On Wednesday October 23, over 150 athletes and their families gathered at Classic Subaru to see their 2019 Triathlon season come to an end. They laughed, they caught up with old friends, they celebrated and they donated. Thanks to their kindness, Mutt Madd-ness went home with a Subaru full of donations for their rescue.
---
Classic Subaru Honors Triathletes - Ann C
We are so grateful for our partnership with Classic Subaru of Atlanta. Classic has supported our local grassroots triathlon race series (Tri the Parks) for over 10 years and we couldn't be more grateful. The incredible support of Classic goes beyond measure. Not only do they support us financially, but their team attends every one of our triathlons. Our athletes have come to know the team through building relationships, cheering & encouraging, and even their fun chalk art along the race course. One of our favorite nights of the year is our end of season awards banquet hosted by Classic in one of their showrooms. The event is spectacular with awesome door prizes, swag, food and community. They always combine the party with a fundraiser for Mutt Madness where we get to fill a Subaru with much needed pet supplies for a local dog rescue. It is a truly unforgettable event! Classic Subaru has become a part of our Tri the Parks family. Without their support we would not be able to provide our athletes with the quality of triathlons for which our series is known. We are so thankful to be a part of Classic Subaru of Atlanta's love promise!
---