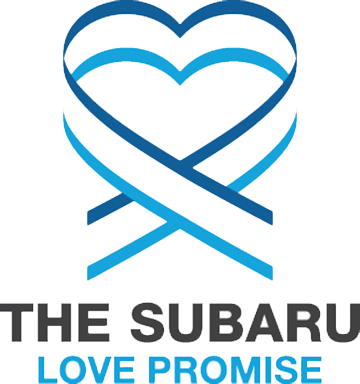 What is the Subaru Love Promise?
Subaru and our retailers believe in making the world a better place and the Subaru Love Promise is our vision of respecting all people. This is our commitment to show love and respect to our customers and to work to make a positive impact in the world.
How is Classic Subaru of Atlanta dedicated locally to the Love Promise?
Our Love Promise can be seen in various partnerships with local charities and non-profits. We're grateful for the opportunity, not only to be a part of our community, but to serve it as well.
Mutt Madd-ness Dog Rescue, FurKids
Southern Off-Road Bicycle Association (SORBA-W), Georgia Conservancy
Barnwell Elementary , Springmont Montessori School - Mile Dash
Senior Services North Fulton - Meals on Wheels, The Leukemia & Lymphoma Society, Make-A-Wish Georgia
CURE Childhood Cancer, Team in Training - Georgia Chapter, Tri the Parks Race Series - Swim, Bike, Run!, Endurance Concepts - Endurance Coaching Firm, Bike Roswell
Love Promise Stories from Classic Subaru of Atlanta
Subaru and Classic Subaru of Atlanta believe in making a positive impact on the communities in which we live and work. We uphold that belief through our Love Promise Community Commitment. Every month, we select inspiring stories from customers and partners from around our area who strive to support our collective commitment and feature them here
Classic Subaru makes donation of warmth - Avery B
Just before the holiday season Classic Subaru was able to make a generous donation to Mary Hall Freedom House of 80 blankets. This gift of warmth will allow this terrific transitional housing center to provide warmth to those in need. Classic Subaru is happy to help the center promote their mission to free women and women with children by empowering them to break the cycle of addiction, poverty and homelessness.
---
Toys for Tots a large success for Classic Subaru - Mary B
Classic Subaru of Atlanta along with the help of their valued customers and employees was able to raise a huge donation for Toys for Tots! This terrific organization run by the United States Marine Corp helps collects and distributes toys to families that otherwise wouldn't be able to afford gifts for their loved ones.
---
Subaru Surprise at Dunwoody Springs ES - Ivy G
As an elementary school administrator I see first hand how often dedicated teachers spend their personal funds to purchase classroom supplies to support instructional engagement and to create a positive, attractive learning environment for students. I was excited when I learned that our school was selected by Adopt a Classroom and Subaru - Atlanta to receive $500 for 6 teachers in our school. I selected team leaders for each grade level K-5. It was important to me to recognize the teachers while they were with students so that our children could be a part of the excitement. I enjoyed surprising the classes with the poster and with 5 oversized $100 dollar bills printed from the internet. The students excitedly offered lots of suggestions about how the funds should be spent. We heard everything from classroom robots, pets, play equipment and new books. I also took advantage of the opportunity to brag on these committed teachers in the presence of their students. We tweeted photos and also shared the news about the donation directly with parents using Class Dojo, our schoolwide communications tool. Our teachers purchased books to expand their classroom libraries and book bins to store them, new headphones for laptops, manipulatives to support math instruction, math folder games to support students' independent practice, flip charts and markers to create anchor charts to reinforce learning, pencil sharpeners and other replacement materials for those that have worn out since the beginning of the school year. Many of these teachers purchased supplies for their entire grade level. It is truly heartwarming to know that local businesses like Subaru Atlanta and organizations like Adopt A Classroom care enough to invest in our children and our teachers. Thank you for giving back to your community and supporting the profession we love. As the adage goes, "It takes an entire village to raise one child." We are grateful that you chose to be a part of ours. Thank you for making a difference at Dunwoody Springs ES Ivy Goggins Principal
---
Filling the Outback for Dogs! - Karen T
If you have followed Mutt Madd-ness Dog Rescue for awhile you know that Classic Subaru of Atlanta has been a strong supporter of Mutt Madd-ness since we began our rescue in 2009. We are proud to support Subaru America and Classic Subaru of Atlanta in their commitment in keeping all animals safe and healthy and ready for their new home. A few day ago Classic Subaru of Atlanta held a donation drive for Mutt Madd-ness and they filled our Outback Mutt Mobile with super items for the dogs in our rescue. Classic Subaru of Atlanta is a strong supporter of rescue and their holiday "Share the Love" program and October's "Love Promise" go a long way to helping small rescues like ours. We just want to say a BIG THANK YOU! Wet Noses and Warm Hearts from www.muttmaddness.org
---
We really are ALL in this TOGETHER... - Ann C
Our partnership with Classic Subaru of Atlanta continues to be one of incredible support and encouragement for our grassroots company. We took a huge hit in 2020 due to the pandemic and had to cancel our entire Tri the Parks triathlon series. It was such a hard year for so many and honestly, it was scary to think about whether or not our company would be able to weather such financial loss. Being able to produce races again in 2021 was such a huge gift and Classic Subaru of Atlanta played a big part in our ability to come back to racing. They supported us not only financially, but also by coming out to every one of our races, interacting with and cheering on our athletes and putting together videos for social media promoting our event with others. We are so grateful for the support of this amazing company without whom we would not be able to continue our goal of providing excellent mulit-sport events for our superb athletic local community. Thank you so much for your continued support and we look forward to our incredible partnership for years to come!
---
Classic Subaru supports Sandy Springs Police - Officer Nicolas T
We would like to say thank you to the team at Classic Subaru of Atlanta for coming out and supporting the Sandy Springs Police Department. The catered Chick-fil-a and Dunkin Donuts was a great surprise and we appreciate Classic Subaru of Atlanta's continued support of all the men and women of the Sandy Springs Police Department.
---
Lunch for Sandy Springs Fire station51 - Lieutenant William P
Thank you so much for providing Firehouse subs and everything to go with it to Sandy Springs Fire station 51 on Spalding Drive. The people were so friendly and the food was delicious. Thank you for your support of the fire department.
---
Classic Subaru of Atlanta Supports New STEM School - Raina L
Classic Subaru of Atlanta has made a generous donation to Innovation Academy in Alpharetta, GA. IA is a newly opened Magnet STEM High School located in the tech hub of the south, Alpharetta, GA. Innovation Academy's mission is to provide students with a specialized project-based education in the following pathways: Healthcare Science, Engineering, and Information Technology. Classic Subaru's partnership and donation will help IA to further enrich each students experience and help push them to be creators and problem solvers in an ever changing world.
---
Big Trees Forest Preserve Clean Up - Jamin W
Along with management the entire Classic Subaru Sales Team spent the entire afternoon hiking through Sandy Springs Big Trees Forest Preserve removing trash and helping the pathways and stream stay clean. This park located directly adjacent to the dealership plays a large role in our community providing excellent nature trails for all to enjoy. The Classic Subaru Sales Team was able to collect several bags of trash from the trails and stream helping keep Sandy Springs beautiful and clean.
---
Akshay's LEGO Wish Accomplished! - Katie S
Our mission at Make-A-Wish Georgia is to create life-changing wishes for children with critical illnesses. From the most complex wishes to the simplest ones, we are committed to creating hope in the hard seasons these brave families are facing. Thanks to Classic Subaru of Atlanta, hope ignited for one special boy and his family during a very special wish celebration at their local dealership. When 12-year-old Akshay thought about what he wanted his wish to be, it didn't take him long to grin and say, "I wish to have my dream LEGO sets!" He LOVES to build things. On days when his nervous system disorder presents challenges, LEGO sets allow Akshay to create worlds where he is in control. When he's assembling something he designed, his confidence builds with every layer. His dream is to become an architect one day, and LEGO sets give him the chance to practice his skills. When our friends at Classic Subaru of Atlanta heard about Akshay's wish, they immediately started brainstorming ways to make it come true in the most special of ways. Not only did they sponsor his entire custom wish list of LEGO sets, they also threw and epic wish celebration and car parade, surprising his whole family. On Akshay's wish day, his family arrived at Classic Subaru of Atlanta without any idea of what to expect. Little did they know, employees had been hard at work decorating a parade of Subaru vehicles! While Akshay's family entered the garage bay, a crowd of people started cheering, holding up signs that said, "Your wish is coming true!" As Akshay realized what was happening, the parade of decorated Subaru vehicles drove through the bay! Honking horns echoed off the walls and cheers rang out. Akshay and his family were overwhelmed with excitement! When the last car made its way to the bay, it stopped right in front of Akshay. Mike Domenicone, owner of Classic Subaru of Atlanta, got out and opened the hatch, revealing a trunk load full of all the items from Akshay's wish list! Not only did he present Akshay with LEGO sets, but some for his siblings too. When initially asked about his wish, Akshay made sure to include his siblings to share the love and fun with them as building LEGO sets is their favorite way to spend time together. Akshay and his family couldn't stop smiling as Mike and the entire team at Classic Subaru of Atlanta cheered them on. Akshay's dad spoke on behalf of the family and thanked everyone in attendance for creating a day they will never forget. He even invited everyone to come over one day and see the LEGO sets once they're all built. Akshay's wish was simple in nature, but the team at Classic Subaru of Atlanta created so much hope by granting it in an unforgettable way. We're so grateful for their hearts for wishes!
---